LEAD CRITERIA FOR HOT TELEPHONE TRANSFER LEADS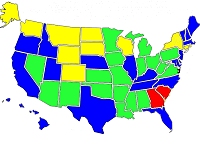 All US Cash Advance Leads include details such as name, address, contact numbers, purpose of loan etc.
Criteria for funding:
1) Minimum 4 months in business & card processing for the entire four month period
2) Minimum monthly average of processing $10,000 or more.
3) No Liens against business
4) Must have minimum 1 year left on lease
5) No credit score below 500
All leads are double verified by telephone, ensuring that they are of the highest quality.
Leads are forwarded to clients, as live telephone transfers or by Online CRM / email.